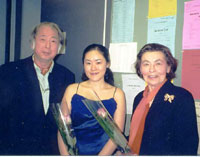 SOYEON IN - A SPLENDID AND EXQUISITE PERFORMANCE IN MONTREAL
On April 13, 2005, Korean pianist Soyeon In, laureate of the 2004 IBLA Grand Prize International Piano Competition, presented a recital at the Clara Lichenstein Hall of McGill University (Quebec, Canada) as part of the McGill Guest series. The event was supported by the Culture and Information Service of the Embassy of the Repulic of Korea.
In this recital, Ms.In revealed a splendid ability to communicate with her audience which was drawn into her world and that of the composer by her intense musicality.
Soyeon In began the recital with "Fünf Stücke für Klavier" (1958) by Korean composer Isang Yun (1917-1995). Yun's music is dodecaphonic and serial. Influenced by Taoism and the concept of Yin and Yang, he also mixed elements of traditional Chinese-Korean music. To communicate a piece with such intellectual richness, In showed the interaction of the opposing forces through her well-marked phrasing and the growth and decline of intensity. She created vivid tonal images with her sensitive touch bycontrasting nuances in this atonal setting.
Next, she played Bach's "English Suite No. 3 in G minor" with great clarity, sensitivity and vitality. She succeeded in portraying the rhythmic characteristics of each dance movement and her expressive nuances brought out the emotionaldepth of this music.
Next on the program was Rachmaninov's "Variations on a theme by Corelli". The deeply woeful Corelli theme set the house in a completely different atmosphere. In thecarefully paced twenty variations, she kept the audience's attention by characterizing the rhythmic and the textural transformations in each variation. After the sumptuous chorale reminiscent of Bach, the complexity and grandeur of the music increased, but In was always in her poised form. Finally, the lavish intensity dropped to a repeated bass note before the return of theme to end the work.
In the second half of the program, In brought the audience to the melodramatic and exciting world of Schumann's "Carnaval''. The series of short character pieces fully exhibited In's imaginative playing. She made a tender impression in the smooth, dreamy writing of such pieces as "Eusebius'', "Chopin'' and "Aveu", but exhibited plenty of drive in "Estrella'' and the final "March of the Davidsbundler Against the Philistines'' . On the other hand, In was not afraid to put some ebb and flow in the dance movements such as "A.S.C.H-S.C.H.A (Lettres dansantes)" and "Valse allemande", which added much flair to her already lively characterization.
It was a dazzling and sensational performance. The listeners enjoyed the program very much and showed their appreciation of In's great musical gift with a full house standing ovation and long-lastingenthusiastic applause. The artist rewarded the audience by a brilliant rendition of the Etude Op.10 No.7 by Chopin.
Yee Kit Lo. M.Mus. 1 (Performance - Solo Piano). McGill University.Montreal, Canada.